We do not want the Summer Festival and the Comics but September is definitely the month of Lucca par excellence.
The hinge is the feast of Santa Croce on September 14 preceded by the splendid procession that starts from the Basilica of San Frediano and arrives at the Cathedral of San Martino accompanied by the lights that fill the path.
September Lucchese 2018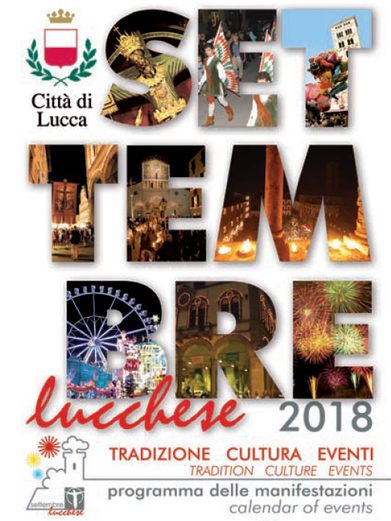 For lovers of the green on the bulwarks San Regolo, La Libertà, in the Botanical Garden and in the basement of the walls will take place Murabilia from Friday 7 to Sunday 9 September.
Timetable and tickets Murabilia 2018
Let's start Friday at 12, the stands will close at 19:30 instead. Saturday and Sunday instead full day with opening at 9:30 and closing at 19:30.
It is important to remember that the ticket office closes at 6.30pm.
Tickets cost
Full € 7.00
Reduced € 3.00 over 65, children between 8 and 14 years old, disabled and accompanying persons.
Free for children under 8 years
Subscription for two days € 11.00
Subscription for three days € 15.00
Cumulative purchase 20 admissions € 140.00 plus two free tickets
Lovari Trophy - Lucca 2018 Basketball
A very important appointment at the Palatagliate in Lucca. The great women's basketball team is always at home in Lucca thanks to "The Walls of Lucca" and also the top of the male one comes for this friendly tournament.
On September 7th and 8th 4 great teams will compete.
Lovari Trophy Program 2018
Friday 7 September
3.30 pm: Minibasket time between representative Lucchesi
6.30 pm: Olimpia Milano vs Fiat Torino Auxilium
9.15 pm: Reyer Venezia vs The Flexx Pistoia
Saturday 8 September
2 pm-5pm: Clinic Trainers and Referees
6 pm: Final 3rd and 4th place
7.30 pm: Game of Baskin among representative Lucchesi
9.15 pm: Final of the Tournament
Fiera di Borgo Giannotti 2018
One of the most awaited events of Lucca is the Fiera di Borgo Giannotti that always attracts many people to the market held between Borgo Giannotti and Piazzale Baroni (where for the whole month there is also the Luna Park, or rather "the rides" ).
Dates Fiera Borgo Giannotti 2018
Friday, September 14th (S. Croce Fair)
Sunday 16 September
Friday 21st September (San Matteo fair)
Sunday 23 Sttembre
Saturday 29 September (San Michele Fair)
Free rides in Lucca 2018
There are days with free tickets for Lucca rides:
DAY DEDICATED TO DIFFERENTLY ABLE TO LUNA PARK - Free tickets for the traditional "Giostre" September 24th from 15.00 to 24.00
FESTIVAL OF CHILD AT LUNA PARK Free tickets for children for the traditional "Giostre" 25-26-27 September from 15 to 24.