Church of San Michele in Foro
Church of San Michele in Foro in Lucca
The church of San Michele in Foro has a unique feature among all churches of the Historic Center of Lucca, is the only one in fact whose perimeter is entirely passable and therefore the only one around which you can turn around.
Despite this it is not located right in the center of the homonymous square (Piazza S. Michele or square "chains") but decentralized and this makes it resemble the rest of the main churches of Lucca.
History Church of S. Michele
The Church has a very ancient origin, in fact there was a Church in 795, the one we see now was built between the eleventh and the fourteenth century. The façade is very particular, above all because the influences of the gothic are already present (the works of the façade ended in 1383) and probably the raised structure suggests a project that included also the general raising of the whole building. Project probably failed due to lack of funds.
Statue of St. Michael Lucca
On the top of the facade of the Church of St. Michael stands a colossal marble statue of more than 4 meters that represents the Archangel St. Michael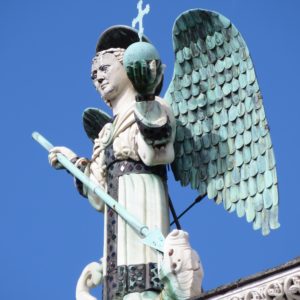 Masseria S. Michele in Lucca
The times for Masses in the Church of San Michele in Foro are the following:
Mass Sunday and holidays: 10.30 am
On this page you can find all the times of the Masses of Lucca.
Hotel vicino la Chiesa di San Michele a Lucca